We are proud to offer cabinet refinishing as one of our professional services. Refinishing cabinets is a tedious job that requires a lot of attending to detail from start to finish in order to achieve a professional look. Here is a brief description of our process and a timeline to expect.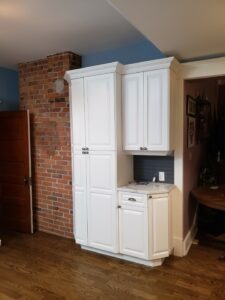 – We remove all doors and draws, and take them to our shop to be
refinished
.
– We mark each piece of hardware so it goes back exactly where it was originally.
– All boxes and gable ends are done in place in the kitchen.
– The entire kitchen is prep for the work to be done.
– Anything in the kitchen not being sprayed gets covered with Ram Board, paper, poly, and tape to create a spray booth.
– The entire process is about 2 business weeks (10 days) from start to completion.
– We wash, sand, prep, spray prime, and spray paint 2 coats on everything. With sanding  in between each coat on  to create a smooth finish (like glass)
– The cleaning can increase the price depending on how dirty things are. So if you have some free time it's always a good idea to try to clean your kitchen as much as possible yourself.
– We use an oil-based sealer/ prime to prime all of the
cabinets. This product is high in VOC so we recommend leaving your home during and for some time after.
– We use Cloverdale Paint's product called Renaissance (melamine finish) for the topcoats. This product is designed specifically for this application and is used on new
cabinets
 from the factory. This product will give your 
cabinets
 a professional/new finished look.
– The product takes about 7 days to cure to a resilient finish and takes about 1 month to cure completely. We keep the doors at the shop for 2 weeks to cure in order to be resilient enough to transport and install without damaging the finish.
– We offer warranties on all our services.